2018 INFINITI Q70L for Sale in Boerne
INFINITI of Boerne has a great selection of INFINITI Q70Ls available!
An opulent sedan that's perfect for all of your daily drives, the 2018 INFINITI Q70L is one magnificently made, elegantly refined automobile. Plush interiors, a sleek, sophisticated exterior, and varied powertrains to match your lifestyle all come together to make the 2018 INFINITI Q70L a sheer necessity for your garage. Let's take a closer look, shall we?
Just click here to see our current inventory!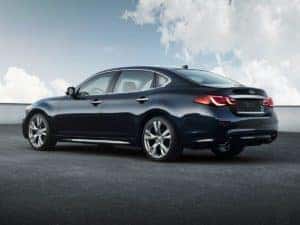 Performance: The 2019 INFINITI Q70L comes in three optional powertrains–the V6, V8, or hybrid. The standard 3.7-liter V6 engine produces an astonishing 330 horsepower, while the 5.6-liter V8 engine puts out a whopping 420 horsepower! The hybrid engine is equally as impressive with a 3.5-liter V6 that's paired with an electric motor to generate a combined horsepower of 360. Regardless of the engine you choose, the 2018 INFINITI Q70L will most certainly be a pleasure to drive.
Design: Luxury is a defining quality of INFINITI automobiles, and the 2018 Q70L is no exception to this rule. On the outside of the sleek 2018 INFINITI Q70L you'll find 18" wheels, LED headlights and taillights, and a huge power-sliding moonroof. Step inside the Q70L, and experience firsthand premium upholstery, a leather-wrapped steering wheel and shift knob, active noise cancellation, and high-quality Japanese Ash wood accents. The 2018 Q70L is a premium experience throughout, you'll have to see for yourself.
Technology: With road-ready performance and sleek, modern design, the 2018 Q70L also comes jam-packed with the latest technology to keep you connected while on the go. A standard rear view camera ensures effortless reversing every time, while the automatic rain-sensing windshield wipers turn on precisely when you need them so you'll never have to worry. Opt for the Premium Package and your 2018 Q70L will come equipped with a 10-speaker surround-sound system from Bose, so you won't just be listening to your music, you'll be able to experience it, too.
Does the 2018 INFINITI Q70L sound like the perfect fit? Just stop by INFINITI of Boerne today to give one a try–click here.