2018 INFINITI QX30 for Sale Near Austin
INFINITI of Boerne near Austin, Texas has a great selection of INFINITI QX30s available for sale!
Recently named the Compact Luxury Crossover Utility Vehicle of Texas, the 2018 INFINITI QX30 is the ideal blend of form and function all wrapped up in one gorgeous automotive package. Whether you're interested in its stunning design or its impressive performance, the 2018 INFINITI QX30 is always bound to impress… so let's take a closer look!
Click here to view our current inventory of QX30s now!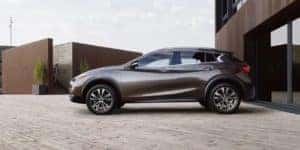 Technology: In the INFINITI QX30, technology takes center stage both in terms of connectivity and safety. At the front of the QX30, you'll find the INFINITI InTouch infotainment system which grants handsfree, wireless access to contact information, texting, navigation, and music–all accessible with voice commands. If you've got audiophilia on top your autophilia, there's an available 10-speaker Bose Premium sound system for the highest quality musical experience imaginable. Other tech features like Intelligent Park Assist, Intelligent Cruise Control, Moving Object Detection, and Lane Departure Warning are meant to keep you safe and alert behind the wheel.
Design: Crafted with sleek and aerodynamic curves, the 2018 INFINITI QX30 has a strong sense of sophistication that naturally carries from the exterior to the interior. Starting with the seating, you'll have four luxurious options to choose from–City Black, Cafe Teak, Graphite Leather, and Wheat Leather. Seating for five means that plenty of friends and family can come along for a ride in the 2018 INFINITI QX30, and do so in style, especially if you opt for the available Panoramic Moonroof. If you need more space for cargo instead of passengers, the QX30's rear seats also fold down to reveal 34 cubic feet of storage.
Performance: Equipped with a 2-liter turbocharged engine, the 2018 INFINITI QX30 generates a whopping 208 horsepower and 258 lb-ft of torque! The engine is managed with a 7-speed, dual-clutch transmission that automatically adjusts before you even realize it's necessary, which is just one more feature that makes driving the 2018 INFINITI QX30 so pleasurable. Intelligent All-Wheel Drive takes it a step further and monitors every aspect of your drive including wheel-spin, throttle position, and speed and so it can independently shift power to the rear wheels in less-than-ideal conditions. When the roads are all clear, your INFINITI QX30 restores full power to the front wheels for maximum efficiency.
Want to experience an INFINITI QX30 firsthand? Visit INFINITI of Boerne today–click here for directions!