INFINITI Service in Boerne, TX | INFINITI of Boerne
INFINITI of Boerne, Texas offers one of the best service departments for INFINITI models in the entire state of Texas!
Need to schedule service right now? Just click here to do so!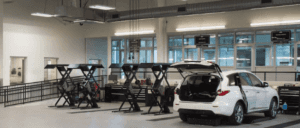 Are you looking for the absolute best place to have your INFINITI serviced, especially close to Boerne, Texas? Our world-class service team located right here at INFINITI of Boerne has got you covered! From wheel rotation to oil changes to brake alignment, our expert technicians have countless hours of training under their belt, making sure they are the most informed when it comes to servicing all INFINITIs–big and small. When you bring your INFINITI to us, you can rest assured knowing our highly-trained service technicians will take the utmost care of your beloved vehicle.
We know your time is valuable here at INFINITI of Boerne, which is why we offer a number of different ways to have your INFINITI serviced that's perfectly suited for your schedule. Our service center is open Monday from 8:30 AM-6:00 PM through Saturday from 8:30 AM-5:00 PM. If you're in a rush and need automotive service immediately, feel free to walk-in during our business hours to see what service options are readily available to you. At INFINITI of Boerne, our team always works hard to ensure that you have the best experience possible while making sure your INFINITI is taken care of quickly and efficiently.
Want to schedule a service appointment instead? The INFINITI of Boerne makes booking an appointment effortless. First, click here to visit our service scheduler. Fill in your contact information including your name, email, and phone number. Then, explain any issues you may be having, or what you'd like to have done to your INFINITI. Select a preferred service advisor if you have one, and then schedule a time. Review your appointment information and hit submit. You're good to go and our service team here at INFINITI of Boerne will be ready to help you at your scheduled time!
If you have any other questions pertaining to our service department at INFINITI of Boerne, click here to contact us now!