How to Check Your Transmission Fluid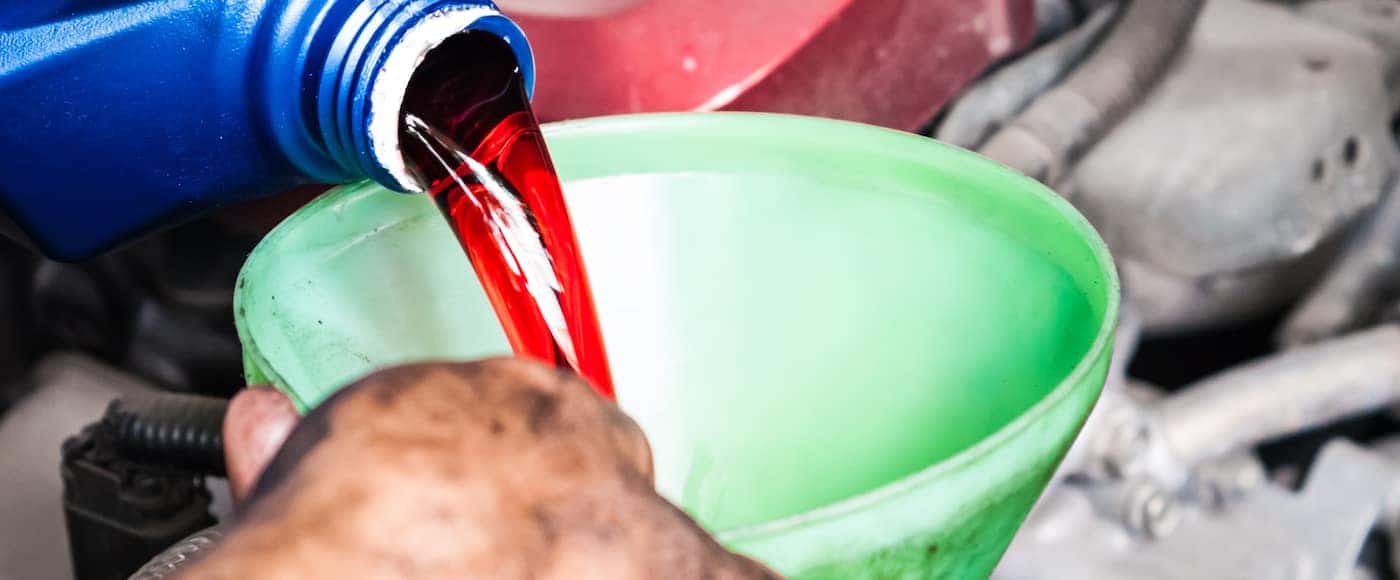 Understanding how to check your transmission fluid regularly helps prevent any maintenance issues before they become serious and expensive. INFINITI of Boerne has put together an easy guide for San Antonio-area drivers to follow:
Turn the car on. Make sure the engine is warmed up to check the level.
Find the transmission fluid dipstick. On front-wheel-drive cars, it's to the right of the oil dipstick. Refer to your owner's manual if you are having trouble locating it.
Pull out the dipstick and touch the fluid, moving it around between your thumb and forefinger. The fluid should be nearly clear, with a pink hue. If it looks dirty or gives off a burnt smell, take it to a service center for replacement.
Use a rag to wipe off the dipstick. Then insert it back into the vehicle. Pull it out again and check the level. If it's under the "FULL" marking, you will need to add more.
Use a funnel to pour in the fluid and bring the level up to the right spot. Be sure not to overfill it.
If you experience any issues, feel free to contact the INFINITI of Boerne service center.
How Often Do You Check Your Transmission Fluid?
It's recommended that drivers check the main fluid levels every month. That includes checking your transmission fluid, power steering fluid, and engine oil. As always, you can refer to your owner's manual for a specific maintenance schedule.
Transmission Fluid Basics
Your transmission is considered one of the most complex parts of your vehicle. Before you check your transmission fluid, read these tips below:
Not all transmission fluid is the same, with different types for recent models, manual transmissions, and automatic transmissions. Your owner's manual will recommend a particular type of transmission fluid.
Checking the fluid on a manual transmission will usually require a jack to access a plug located beneath the car. For most drivers, a visit to our service center near New Braunfels is a better option.
If your vehicle delays before shifting gears, it could be due to low transmission fluid. However, it could also be a sign of a more serious problem. Check the fluid level first, or you can schedule a service appointment with our team.
It's best to replace your transmission fluid every 50,000 to 100,000 miles. The actual amount varies based on your driving habits, type of transmission, and other factors. Check your owner's manual for a specific replacement interval.
Learn More About How to Check Your Transmission Fluid at INFINITI of Boerne
At INFINITI of Boerne, we are here to help answer any questions you have about vehicle service, maintenance, and more. Contact our service center or visit our dealership near New Braunfels. Whether you need additional information about your transmission fluid, where to find genuine INFINITI tires, or the INFINITI InTouch™ App, we have you covered!
More From INFINITI of Boerne
San Antonio are drawn to the popular INFINITI QX80 due to its capability and advanced features. The QX80 is the largest available SUV in the new INFINITI vehicle lineup and it has a pretty impressive towing capacity. Travel the Boerne roads in comfort while safely towing in the 2020 INFINITI QX80, which combines passenger comfort with…

When you're in the market for a reliable, head-turning luxury sedan, consider the 2020 INFINITI Q50 near Fredericksburg at INFINITI of Boerne. If you already have your eyes on this exciting sedan, you are probably wondering about the INFINITI Q50 price. This affordably-priced sedan offers premium features and performance capabilities without breaking the bank. INFINITI of Boerne has your…

The five-passenger 2020 INFINITI QX50 is a luxury SUV that's sure to attract car enthusiasts with its innovative engineering and provocative styling. Conscientious consumers are also going to be drawn to the QX50's starting price. With an MSRP of a very reasonable $37,250, the QX50 reviews are justified. Don't take our word for it. Learn…