How to Clean Car Windshield Inside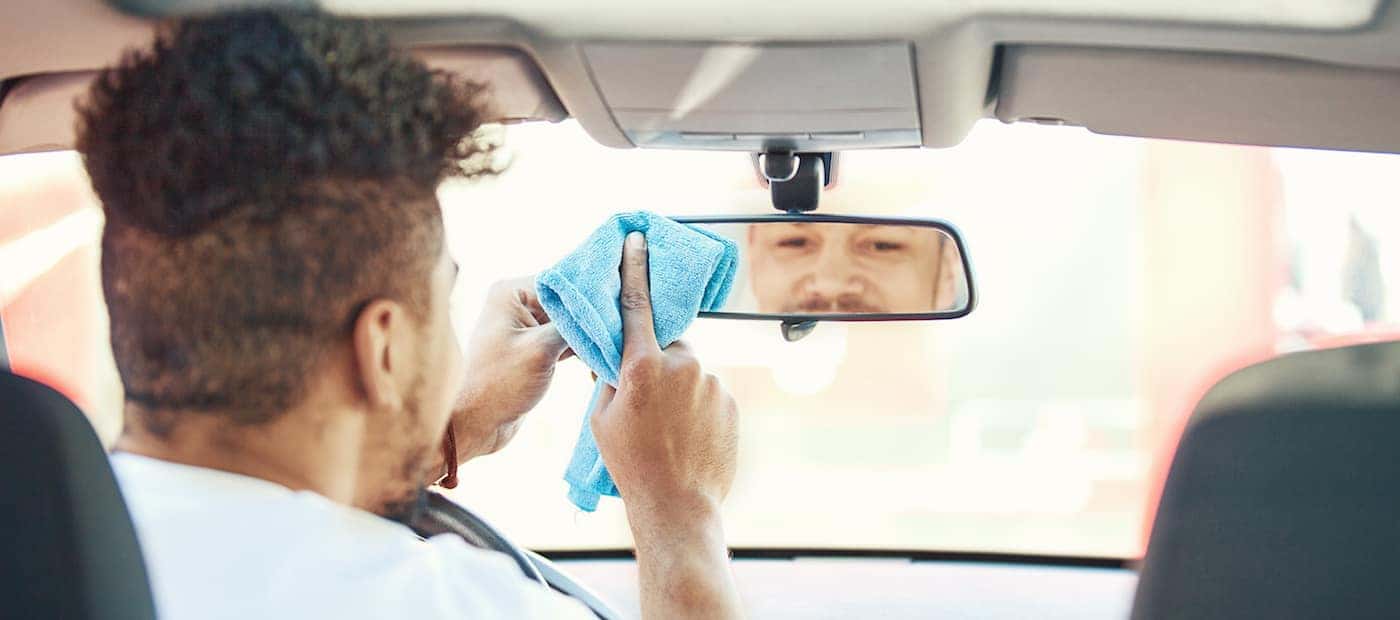 Most San Antonio drivers are diligent about keeping the outside of their windshield sparkling, but the inside is often a different story. To clean the inside of a car windshield, all you need is a microfiber towel, glass cleaner, and rubbing alcohol. Then, follow our simple step-by-step instructions for how to clean car windshield inside, below!
How to Clean Inside Car Windows
If the inside of your windshield is starting to obstruct your view on New Braunfels drives, it's definitely time for a good cleaning. Here's how to clean a car windshield, broken down into easy-to-follow steps:
First, wipe the glass down using a clean microfiber cloth. This helps remove any grime or dirt sitting on top of the glass.
Next, spray your preferred brand of glass cleaner on the microfiber cloth and wipe down the windshield. This should do the trick to remove any stubborn substances, but you're not done just yet.
Apply rubbing alcohol to a clean microfiber cloth and wipe down the inside of the window. This will cut any grease build-up and make your visibility that much better.
Finally, another round of glass cleaner or a glass polish applied at the end can take your windshield's transparency to the next level.
Can You Use Windex on Car Windows?
Yes, it is safe to use Windex on car windows. Some experts do warn that you should not use it on tinted windows, but there is no hard evidence that Windex with ammonia will cause problems. If you had your windows tinted by a third party after purchasing your vehicle, it's probably best to play it safe and skip using Windex, but if they were tinted at the factory, you won't run into any issues. Do be careful not to get Windex on leather seats, as it can dry out and discolor your leather. If you ever have questions about whether your cleaning products are safe to use on your vehicle, don't hesitate to contact INFINITI of Boerne!
More Car Windshield Cleaning Tips
Noticing a few leftover stubborn spots that won't seem to budge? Make sure you're employing these steps:
Stick to a microfiber cleaning cloth, as they eliminate the small paper fibers that shed when you clean with paper towels and are less likely to leave streaks behind.
Having trouble getting to the corners of your windshield? Try a reach-and-clean tool.
Remember to use a circular motion when you're wiping with a microfiber cloth, but wipe vertically at the end to eliminate streaks.
You're welcome to use this cleaning process on all of your interior windows, not just the windshield.
Learn More About Car Care with INFINITI of Boerne
Looking for additional service tips about car care, how to clean leather car seats, or how to check your transmission fluid? Contact our service center, give us a call at , or consult our helpful service tips and tricks online. Visit us near San Marcos today to learn more!
More from INFINITI of Boerne
INFINITI of Mobile Receives Prestigious Award of Excellence We're proud to announce that INFINITI of Mobile has been recognized as an Award of Excellence winner for the second year in a row. Additionally, our location ranked eleventh in the nation and received the prestigious title of a Circle of Excellence location, an honor of which…

San Antonio are drawn to the popular INFINITI QX80 due to its capability and advanced features. The QX80 is the largest available SUV in the new INFINITI vehicle lineup and it has a pretty impressive towing capacity. Travel the Boerne roads in comfort while safely towing in the 2020 INFINITI QX80, which combines passenger comfort with…

When you're in the market for a reliable, head-turning luxury sedan, consider the 2020 INFINITI Q50 near Fredericksburg at INFINITI of Boerne. If you already have your eyes on this exciting sedan, you are probably wondering about the INFINITI Q50 price. This affordably-priced sedan offers premium features and performance capabilities without breaking the bank. INFINITI of Boerne has your…
Search
Find Your Vehicle
Search By Keyword
Search By Filters
Saved
Saved Vehicles
SAVED VEHICLES
You don't have any saved vehicles!
Look for this link on your favorites:
Once you've saved some vehicles, you can view them here at any time.
Share
Share This
Choose How To Share:
my glovebox