How to Install a Car Battery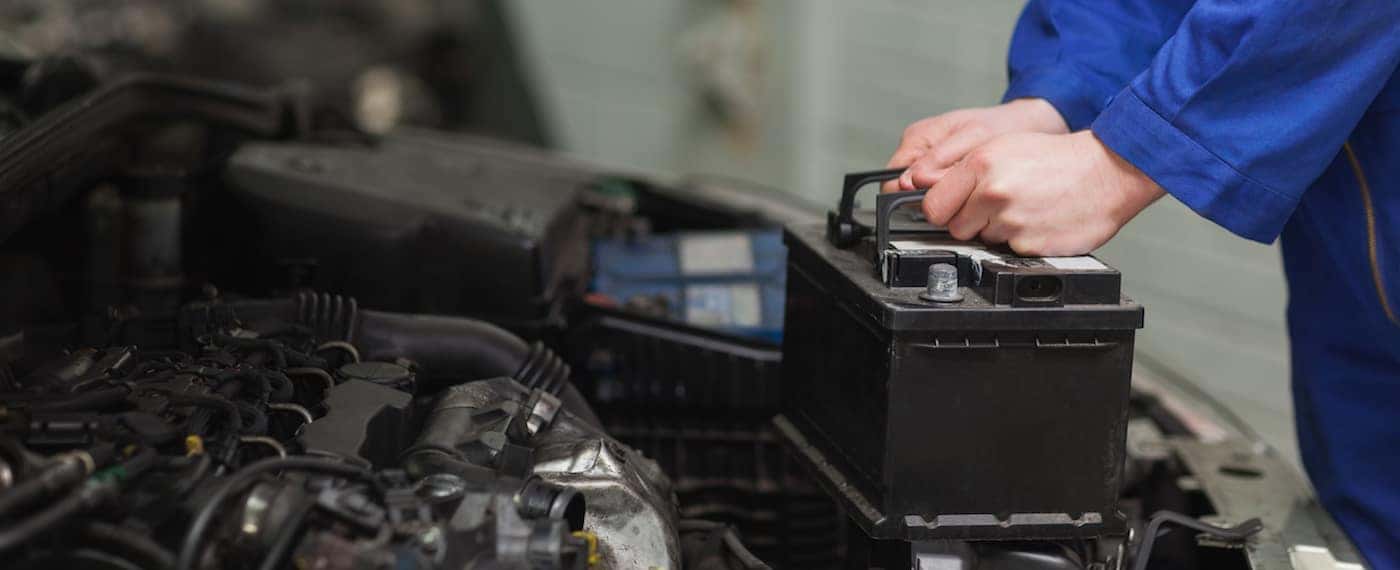 Many drivers may think that installing a car battery is an easy process, while true, there are steps to take to ensure you're handling the installation safely. For starters, make sure you have the right tools and genuine OEM parts: Wrenches, battery cleaning solution, a new battery, wire brush, pliers, and anti-corrosion spray are all needed. You also want to make sure that you wear thick rubber gloves for protection. Finally, be careful when moving the battery to avoid spilling battery acid. Don't hesitate to contact the service department if you have any questions on your car battery installation near New Braunfels.
Car Battery Installation Steps
Start with the engine turned off and the parking brake activated. Open the hood and find the battery. Loosen the nut connecting the black cable (negative cable) from the battery using the wrench. Specific battery wrenches or pliers will make things easier.
Once loosened, twist and pull the cable off. If it's stuck, don't try to pry it off, because it can damage the battery.
Use the same steps to remove the red battery cable from the positive terminal.
The battery hold-down clamp keeps the battery from moving around in the engine. Loosen then remove it.
At this point, you can remove the battery. Take it out, but be careful and use both hands. The battery is heavy, and dropping can cause an unsafe leak.
Remove any corrosion that might be in the battery tray or hold-down clamp. You can use a baking soda and water solution or a battery cleaning product to do this.
Take a wire brush and clean off the battery cable connectors using the same cleaning product as above.
Now, it's time to install the new battery. Place it in the battery tray and tighten the hold-down clamp.
If you have an anti-corrosion solution, spray it on the positive and negative terminal of the new battery before connecting. This helps prevent corrosion and extend the life of your battery.
Attach the battery cables to the battery terminals, connect the red cable first, and then the black cable.
Double-check that the connections are secure, then try to move the battery. This is a great way to check that it won't move.
Start the car. If you have any issues, consult with the San Antonio-area battery experts at INFINITI of Boerne.
Have Your Battery Replaced at INFINITI of Boerne!
If you are searching for a "car battery installation near me," trust the INFINITI experts at the INFINITI of Boerne service center to handle all of your automotive needs. Be sure to explore our service specials to help save on your next service appointment. If you have any other service-related questions like how to check the coolant level, don't hesitate to reach out to our service center!
More From INFINITI of Boerne
INFINITI of Mobile Receives Prestigious Award of Excellence We're proud to announce that INFINITI of Mobile has been recognized as an Award of Excellence winner for the second year in a row. Additionally, our location ranked eleventh in the nation and received the prestigious title of a Circle of Excellence location, an honor of which…

San Antonio are drawn to the popular INFINITI QX80 due to its capability and advanced features. The QX80 is the largest available SUV in the new INFINITI vehicle lineup and it has a pretty impressive towing capacity. Travel the Boerne roads in comfort while safely towing in the 2020 INFINITI QX80, which combines passenger comfort with…

When you're in the market for a reliable, head-turning luxury sedan, consider the 2020 INFINITI Q50 near Fredericksburg at INFINITI of Boerne. If you already have your eyes on this exciting sedan, you are probably wondering about the INFINITI Q50 price. This affordably-priced sedan offers premium features and performance capabilities without breaking the bank. INFINITI of Boerne has your…